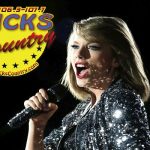 Your Big Prize Station is gonna hook you up with…A Flyaway To See Tay!!! Starting Monday (8/13) you can enter online at here at KicksCountry.com to win a trip for 2 to see Taylor in Dallas October 5th!!
Plus, you can get bonus entries with special keywords we'll give you each day at 8A, 11A, 2P, 5P, and 7P!!!
It's a Flyaway To See Tay with Your Big Prize Station – On-Air, Online, and on the go…Kicks Country!!!