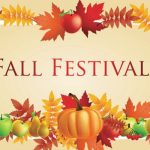 Dudley Primary and Kicks Country invite you and your family to head out to the annual Fall Festival October 12th from 5P-8P. It's free to come and open to the public!
Activities include:
* Carnival Games
* Bounce Houses
* Cake Walk
* Haunted House
* Prize Room
* A Silent Auction for some great items: G-Men Spirit Basket, Sabika Basket, Tailgate with WVU & VT Tickets, and more!
There will be food and lots of great activities! So make plans to be there October 12th at Dudley Primary's Fall Festival!!!