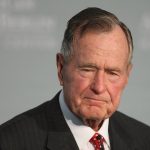 George H.W. Bush, 41st president of the United States dies at 94
The man nicknamed "41", George Herbert Walker Bush died late Friday evening in Houston at the age of 94.
In a statement released earlier, George W Bush said: "Jeb, Neil, Marvin, Doro and I are saddened to announce that after 94 remarkable years, our dear Dad has died." The statement went on to say that, "George H.W. Bush was a man of the highest character and the best dad a son or daughter could ask for. The entire Bush family is deeply grateful for 41's life and love, for the compassion of those who have cared and prayed for Dad, and for the condolences of our friends and fellow citizens."
Bush was born on June 12, 1924, in Milton, Massachusets and lived a life of service to his country. Upon turning 18 years old and graduating from high school at Phillps Academy Andover, Bush immediately enlisted in the Navy. Soon after, while he was still 18 years old, he went on to receive his officer's commission and was believed to be the Nay's youngest pilot.
In 1988, Bush became President of the United States and ushered us through many international crises and is considered by some to be a great President in the realm of foreign policy with his biggest accomplishment being the ending of the Cold War.
He and Barbara had 17 grandchildren and 7 great grandkids.