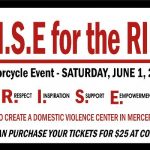 Help support the building of a domestic violence center in Mercer County with RISE for the Ride – Saturday June 1st…
The ride will start at Cole Harley in Bluefield with lunch at 12:30…First bike out at 2:30….
The ride will go thru "Wild and Wonderful" West Virginia and wrap up at the Princeton Elks at 6P with a Hollywood them party!
Registration is $25…For each ticket purchased before May 25th – You'll be entered to win $100!
Got more info call 304-922-7350 or 304-922-1504
Buy your tickets at Cole HD or Beauty Concepts…
Help put an end to domestic violence with RISE for the Ride June 1st.