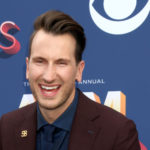 Russell Dickerson is set to release his third studio album, a 15-track self-titled project, on November 4th. Dickerson, who co-wrote on all 15 tracks, also served as co-producer alongside Dann Huff, Zach Crowell, Casey Brown, Josh Kerr, Ben Johnson and Alysa Vanderheym.  Dickerson posted on social media: "RD3. 15 songs. Nov 4th. Pre-order now! "   To pre-order head here.
A new track from the album, 'I Wonder', is out now. Said Dickerson:  "No matter how far we get into this, I want people to know it's still me. I'm still the hyper, outgoing, fun-loving, crazy dude on stage. But also these songs are so meaningful to me. It's not all hype and smoke and lights. I am a songwriter, I trust my instincts, and now my instincts are telling me to share 100-percent me, and creatively just let it flow."
Dickerson's chart-topping singles include "Yours", "Blue Tacoma", "Every Little Thing", "Love You Like I Used To", and most recently Dickerson's current single "She Likes It" ft. Jake Scott, which has already been certified Gold
Dickerson will also embark on a sold-out tour in the UK and headline a tour throughout the US starting in November.
Editorial credit: Kathy Hutchins / Shutterstock.com