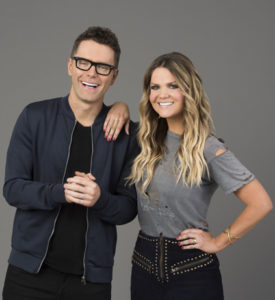 MONDAY to FRIDAY -- 06:00 AM - 10:00 AM
Bobby Bones
Born and raised in Arkansas, Bobby Bones began his radio career at Henderson State University's KSH 91.1 The Switch at the age of 17, where he graduated with a degree in Radio/TV.  During that time, he also worked at KLAZ 105.9 in Hot Springs, Ark., as a part-time air talent.  In 2002, Bones was hired by Q100/KQAR in Little Rock, Ark., and The Bobby Bones Night Show was born.  The following year, he moved to Austin, Texas where he began hosting The Bobby Bones Show Monday through Friday on 96.7 KISS FM.  Joined on-air by Lunchbox and Amy, they attracted listeners in droves, as well as top rankings in the market.  For his work on the program, Bones was named "Austin Radio Personality of the Year" in 2009, 2010 and 2011, and Austin's Alliance of Women in Media honored the program with their "Radio Personality of the Year" award seven years in a row.
Bones is also half of The Raging Idiots, a comedy band with his radio producer Eddie that plays shows all over the U.S., and has raised millions of dollars to benefit various charitable causes.  The duo has performed with Jason Aldean, Dierks Bentley, Florida Georgia Line, Brad Paisley and Toby Keith. S igned to Black River Entertainment in 2015, the band's first full-length album, The Critics Give It 5 Stars, debuted at No. One on the Comedy Albums Chart and landed in the Top 5 of Billboard's Country Album Chart.  The group's superstar friends Kelsea Ballerini, Lindsay Ell, Charles Kelley, Brad Paisley, Carrie Underwood and more are featured on the album that takes satirical and deliberate cues from today's popular music.  The band also released The Raging Kidiots: Kiddy Up! in 2016, which debuted as the top downloaded children's album and was born from the success of the No. One EP, The Raging Idiots Presents – The Raging Kidiots.
In April 2018, Bones made his debut on ABC TV's American Idol reboot as a mentor for the top 24 contestants, helping them reach the next level in their artistry and performances.  He returned as an in-house mentor for the 2018 and 2019 seasons of the beloved singing competition series.  In 2018, Bones also competed on Season 27 of Dancing with the Stars, and he took home the coveted mirror ball trophy with partner Sharna Burgess.  Following the win, he performed some of his fan-favorite routines from the hit ABC-TV show as part of the Dancing with the Stars: Live – A Night to Remember tour.
Bobby Bones has been dubbed "the most powerful man in country music" by Forbes magazine, and he puts that star power to good use by supporting numerous charitable initiatives.  He was elected to the Board of Directors for Musicians On Call in 2016, and has helped raise millions of dollars for many worthy causes, including more than $11 million for St. Jude's Children's Hospital.
Outside the studio, Bobby is very active on social media, constantly engaging and interacting with listeners via Twitter and Facebook.  He also enjoys exercising, reading, shopping and going to sporting events.  His favorite artists include John Mayer, Darius Rucker, Ben Kweller, Zac Brown Band and Ben Folds Five.

Amy
Amy, co-host of The Bobby Bones Show, did not plan on a career in radio.  After finishing college at Texas A&M University, the Austin native started a career in sales, but randomly landed a job in radio after she met Bobby Bones at a restaurant.  In 2006, she joined Bones as co-host of The Bobby Bones Show in Austin, Texas, where the program was broadcast weekday mornings on 96.7 KISS FM.
Inside and outside the studio, Amy is passionate about giving back.  She donates her time to working with orphans in the U.S., Africa and Haiti, where she recently adopted two young children, and she utilizes her national platforms to raise awareness and funds for numerous charitable organizations including St. Jude Children's Research Hospital, TJ Martell Foundation and the American Red Cross.  Amy's husband is a pilot who spent 12 years in the Air Force, so she's also active in supporting the men and women who serve our country.

Lunchbox
Lunchbox is a co-host and self-proclaimed MVP of The Bobby Bones Show.  Based in Nashville, he and the morning show crew welcome the biggest names in country music and entertain listeners with their unique mix of pop-culture news and information, crazy stunts and hilarious conversations.
When he's not on air, Lunchbox can be found hanging out at a local bar with friends, jet skiing on a lake, or spending time at home with his wife, child and two dogs.  A life-long soccer fan, Lunchbox continues to play in recreational leagues in hopes of being called upon to join Team USA.  He's also an avid supporter of St. Jude Children's Research Hospital and the Nashville Humane Association, the latter of which he promotes via social media by sharing photos and videos of animals so they can find forever homes.

Eddie
Eddie met Bobby Bones more than 10 years ago when they worked together at ME Television, a local music TV station in Austin, Texas.  They quickly became friends and Bobby asked Eddie to join his nightly TV show on the station.  Constantly working together thinking up new bits and ideas for the show, the pair formed a parody and cover band called The Raging Idiots.  Bobby often brought "the band" on his national radio show, and after more than a decade of friendship, Eddie finally became an official member of The Bobby Bones Show in 2013.

Ray
Born in Salt Lake City, Utah, Ray grew up in Saratoga, Wyoming before moving to Gwinn, Michigan during his high school years.  A natural athlete, he played baseball, football, and competed on the wrestling and track teams.  In 2008, Ray graduated from Texas State University with a Bachelor of Arts degree in Communications Studies and a minor in Mass Media.  In 2010, Ray joined iHeartMedia's Austin cluster of radio stations as an intern for The Bobby Bones Show on 96.7 KISS FM, as well as the morning show on AM 1300 The Zone.  He soon joined The Zone's morning show as a producer, in addition to working in promotions and marketing for the station.  In 2011, Bobby Bones asked Ray to join his program as an assistant producer.